[ESPRESSO_CALENDAR event_category_id="paddleboard" show_expired="false"]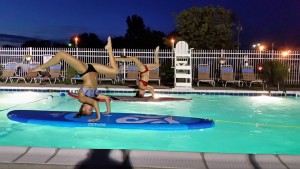 Join us for any of our Paddleboard Classes including lessons,
tours, paddleboard yoga and PowerSUP.  Its a great time on the water and an amazing workout.  Get out and have some fun!
The following policies are in effect for all PADDLEBOARD, KAYAK, SCUBA and
SNORKELING, Lessons, Classes & Guided Tours
Cancellations Policy
ALL Bookings are non-refundable. Due to the demand for spots in our lessons, classes and
guided tours, once you have registered and paid for your spot, NO REFUNDS shall be given
nor will a change in day or time be allowed. You are expected to show up for your registered
event or forfeit your payment. By registering and making payment you accept these terms
and conditions. This includes payments made online through our website, in store and/or
registered using a Groupon or similar payment method.
If you arrive late to your scheduled event (more than 15 minutes after the listed start time,)
and the group has left without you, no refunds will be given nor rescheduling be allowed.
Please be sure you arrive at least 15 minutes prior to your scheduled class / tour departure
time.
Management has the discretion and reserves the right to issue a refund for extreme hardship
cases. If you feel the reason you could not attend your event or be on time for it was due to
an extreme hardship (such as a death in your immediate family,) please see a store manager
for assistance.
Weather Cancelations Policy
In the event of inclement weather we will make a final "go / no go" decision at least one hour
prior to the scheduled event time. If there is any question in your mind about whether to
show up or not, please do one of two things.
1. Call the store at (443)-231-7096 or (443)-231-7052 and ask if your event is still on or not.
2. Check for a cancellation posting at www.easternwatersports.com.
In the event we have to cancel your activity due to weather, you will automatically receive a
full refund to your credit card or PayPal account. Please allow 72 hours for processing of all
refunds. Events scheduled using a Groupon or similar payment method are not eligible for
refund but may be used for a future available event date.