---
Ownership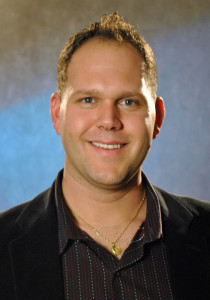 Dr. Phil has been diving since he was 10 years old and hasn't turned back. His passion for diving has taken him from recreational, to public safety dive teams, to commercial and finally as an Instructor with PADI as well as an Emergency Response Dive Instructor with ERDi, part of TDI/SDI. He Cofounded Eastern Watersports in 2014 and looks forward to expanding business. His other activities include sky diving, flying planes, jet skiing, swords swallowing and fire eating. He is a Lieutenant at the Bowleys Quarters Volunteer Fire Company and is on their Marine Emergency Team. He also works part time as a flight paramedic with The Johns Hopkins Hospital. As a Doctor of Science he also owns Consultology, a healthcare IT consulting firm.
---
SCUBA Instructors
---
Philip DePalo
PADI 234756 ERDI 12672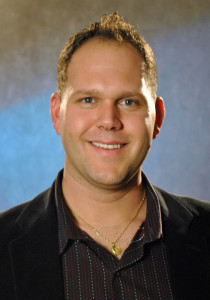 As a Master Scuba Diver Trainer if you are looking to get certified or advance your diving, Dr. Phil can teach: Open Water, Advanced Open Water, Rescue Diver, Divemaster, Ice Diving, Public Safety Diving, Dry Suit Diving, Deep Diving, Nitrox, Navigation Diving, Night Diving, Wreck Diving, Search & Recovery Diving, Full Face Mask Diving and Self-Reliant Diving. He also provides the following medical courses: Emergency First Response, Emergency Oxygen Provider, Care for Children, AHA CPR, AHA Healthcare Provider and AHA Pediatric Advanced Life Support.
---
David Apple
PADI Specialty Instructor #251091 PSAI Master Instructor #582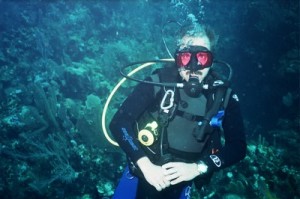 Ever since he saw his first Sea Hunt episode and Jacques Cousteau Special as a youngster, David Apple has been fascinated with the underwater world. As a diver for over 20 years, he found he wanted to share his excitement and love of SCUBA Diving with others. As a professional educator, David has a personal philosophy of, Never Stop Learning!, and learn as much as you can. Experience is a great teacher, but also ask questions from those who are more experienced! David's favorite diving activities include diving on and exploring the historic shipwrecks of the Mid-Atlantic, and photographing the beautiful tropical reefs and fish of the Florida Keys and the Caribbean from the Bahamas to the Turks and Caicos Islands to Cozumel and Honduras. David was originally trained by SSI and worked his way up to attaining the rating of Dive Control Specialist Instructor. David is currently teaching Open Water and Advanced Courses under PADI, SDI and PSAI, where he holds the rating of Master Instructor. When not exploring our underwater world and teaching SCUBA classes, you can find David teaching instrumental music at the middle school level in the Howard County Public Schools, or playing his trumpet with various groups in the Baltimore Area.
---
Paddleboard Yoga Instructors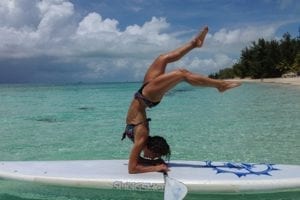 Suangela Abrams is a very energetic, fun loving Yoga Instructor who enjoys taking her Yoga practice outdoors. She also teaches Pilates Mat, Reformer, Dance and Barre.She began teaching Yoga in 2012. Exploring her Yoga practice took her outside of the studio environment. She enjoys connecting with nature by practicing on trails, slopes, beaches, boats and most of all, paddleboards! She finds the challenge of uneven surfaces and undulating waves exhilarating!Providing options for students of all levels, she encourages them to let go of their expectations and find their inner strength, focus and balance. Find your flow with Suangela and enjoy taking your practice onto the paddleboard with Eastern Watersports!
---
Adonia Garvin
Adonia is a nationally accredited 200hr E-RYT Certified Vinyasa Yoga Teacher Registered with Yoga Alliance and also earned her Yoga Alliance Nationally accredited certification in SUP Yoga through Stoked Yogi.
Adonia offers a soulful & invigorating expression of Vinyasa Flow. She sprinkles in traditional and playful sequencing into each class. With your drishti (focus) set on the horizon you will flow mindfully through creative vinyasa sequences on the SUP.  Tap into your core awareness for stability, flow through sun salutations, standing & balance postures, breath work & enjoy lots of FUN during our Expression Session before coming down to rest in our final pose: starfish ⭐aka~ savasana 😉
She motivates and inspires students to connect with their inner self, using breath, movement and body awareness, help students explore and reach their true potential. She encourages students to have a healthy curiosity about their edge, "when we create new edges for ourselves on the mat it trickles out into the world and we begin to create new edges in our day to day lives".
---
Kayak & Paddle Board Instructors
Kelly Lepley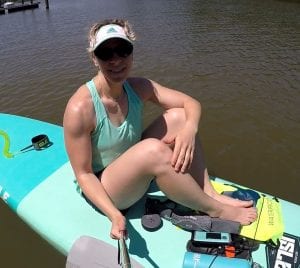 Kelly Lepley has been in the fitness industry for 14 years and works full time as the Executive Director of Fitness for the Y in Central Maryland. In addition to being an ACE certified Health Coach, she is certified through Paddle Into Fitness to lead Intro to Paddleboarding, Advanced SUP lessons, and SUP Fitness classes. Kelly enjoys being outdoors and her own exercise regimen includes running, biking, weight lifting, boxing, and of course SUP! She is passionate about introducing people to the sport of paddle board and encourages you to take your workouts out on the water in her SUP Fitness class that includes both interval paddling and strength circuit training. Kelly can also be found on the public FB group Live.Love.SUP Maryland scheduling SUP Meet-Ups throughout the summer to connect fellow paddlers in the area!