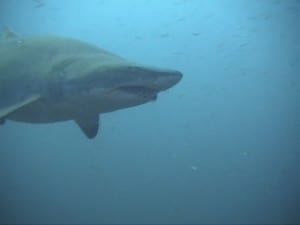 Atlantic Beach, NC
Diving the Graveyard of the Atlantic
August 2016
Trip Leader: Dave Apple
Call Dave at 410-917-1573 for more information
Mona Island: "The Galapagos of the Caribbeanâ€
Just 45 miles from the west coast of Puerto Rico lies an untouched diving oasis called Mona Island. Here, the diving is some of the best around, beautiful walls and pinnacles, big animal encounters, coral heads the size of houses – but it's not for everyone. Mona island is known for its pristine and awe-inspiring diving, but also for it's challenging surface conditions and unpredictable currents. They say there is no such thing as a free lunch, after all.
Juliet departs from Mayaguez, Puerto Rico on Saturday evening to head to Mona Island overnight. You can expect to dive around Mona and Monito, and possibly Desecheo (permitting pending). Trips return Friday morning at 9am.
Cliffs and caves abound, and there is no lack of marine diversity here as the entire island, and her sister Monito, are an ecological preserve. Turtles, sharks, dolphins, and other large animals frequently visit the Mona Passage – the deep water channel nearby – and cruise by the reefs on their way. In the winter months, you can hear whale songs on the walls, and it's not uncommon to see humpback whales in the area either.
This destination is recommended for intermediate and advanced divers, due to the potential for rougher surface conditions and unpredictable currents. The winter months bring great surfing conditions to the west coast of Puerto Rico – but large surfable swells can make for challenging entries and exits. Don't worry though, Juliet's experienced crew always has safety as our highest priority.
Check out this travel article.
Getting To Mona Island Departures
There are two options to get to the boat in Mayaguez, Puerto Rico for your Mona Island trip. There are multiple flights daily from San Juan (SJU) to Mayaguez (MAZ) through Cape Air (https://www.capeair.com/) for around $120 R/T. Mayaguez airport is only 3 miles (5.5 km) from the boat. Juliet leaves later in the evening so flights that arrive as late as 4-5pm are ok. There are also direct flights to Aguadilla (BQN) which is 20 miles (33 km) from Mayaguez.
Juliet is located at the port of Mayaguez near the Customs and Immigration building, just off of route 64.
Buy Now