Rental Hours of Operation
Kayak, Paddleboard, and Canoe Rental Hours below may change based on weather, please check our site or call ahead if questionable.
Months
Days
Hours
June – August
Daily

10am – 7pm*
Hammerman:
12pm – 7pm*

May & September
Weekends only @ Dundee Creek
10am – 6pm*
October – April
Monday – Friday @ Middle River
9am – 5pm**
*Last Rental is at 5:45 June-August. Last Rental is at 4:45 May & September. **Off Season Rentals are based on weather and are self serve. After hours rentals are available, call for details.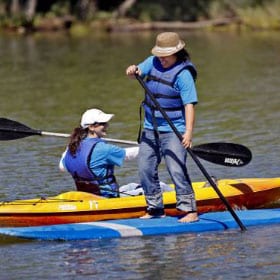 We do not rent if wind speeds are over 15mph.  Rentals must be returned 15 minutes prior to closing.  We do offer sunset guided tours, please reserve your space for these tours by clicking here.
Kayak and Paddleboard Rental Information
We offer a variety of kayak and paddle board rentals.  Our kayak rentals range from sit-in, sit-on, 10 feet, 12 feet, tandem (2 person), and fishing kayaks.  Our paddleboard rental fleet consists of 10'6″ and 11′ boards for  versatility and durability.
Locations
Eastern Watersports @  Dundee Creek Marina at Gunpowder Falls State Park, 7400 Graces Quarters Rd, Middle River, MD 21220.
Eastern Watersports @  Hammerman Beach at Gunpowder Falls State Park,  7200 Graces Quarters Rd, Middle River, MD 21220.
Eastern Watersports @ The Cove at Baltimore Peninsula, 301 E. Cromwell St., Baltimore, MD 21230
Eastern Watersports @ Cunningham Falls State Park, 14274 William Houck Dr., Thurmont, MD 21788
Eastern Watersports @ Middle River, 1923 Old Eastern Ave, Baltimore, MD 21221 – This is also our Jet Ski Rental Location and is open daily 10-6.
Rates
| Type | On-Site Hourly | On-Site Daily | Off-Site Daily | Off-Site Weekend* | Off-Site Weekly |
| --- | --- | --- | --- | --- | --- |
| Single Kayak | $25 | $90 | $100 | $175 | $350 |
| Tandem Kayak | $30 | $100 | $110 | $200 | $400 |
| Paddleboard | $25 | $90 | $100 | $175 | $350 |
| Canoe | $30 | $100 | $110 | $200 | $400 |
All rentals include a PFD, Whistle and Paddle.  Waterproof bags and cell phone cases are available too.
Feel free to bring your dog or cat (Seriously?!?) along with you.  Nails must be trimmed.   Life Jackets MUST be worn and are available for rent.
*Off-Site Weekend Rentals may be picked up as early as Friday at 4pm and returned no later than 11am on Monday.  Please check our regular business hours.
Waivers
English
Español
Rental Policies
Rentals are first come, first served.
Last Rental leaves at 4:45pm. Children 10 – 14 can rent with a renting adult. Children under 10 can accompany a parent or guardian on a tandem kayak or paddleboard. Children 15-17 can paddle alone with a signed waiver by parent or guardian.
Life Jackets Must Be Worn.
A waiver of liability and credit card is required to hold as a security deposit. You may pay cash for the actual rental. No checks will be accepted.
In case of storms, Eastern Watersports will close until 30 minutes have passed since the last lightning flash or thunder is heard.
There is a 15 minute grace period on returns, beyond that an additional full hour will be charged.
There is to be no alcohol, tobacco or drug use prior to or during the rental. Customers suspected to be intoxicated will be asked to leave without refund and rental.
A credit or debit card is required to be held as a security deposit, but the card will not be charged unless there is damage to the equipment. One card per group.